Success of FunGlass project presented at NCP Workshop in Tallinn
On 10 – 11 October, 2017 NCP WIDE.NET and NCP Academy organized in Tallinn, Estonia workshop "The key factors for impact in strategic research and innovation funding in a view of widening actions". The aim of this workshop was to demonstrate the performance, impact and added value of EU programmes which are ones of the key evaluation criteria in European research proposals.
The workshop provided an overview of first impacts on strategic research and innovation funding focusing on H2020, ERA Instruments as well as ESIF and IPA based on case studies.
Within the workshop session "The impact of Widening success stories" the representatives of widening programmes as COST, ERA-Chair or Widespread, reported their experiences and achievements. Teaming action was represented by FunGlass, one of 10 successful projects within the Horizon 2020 Widespread call. The best practices of just establishing FunGlass Centre were presented at the workshop by prof. Dušan Galusek, project coordinator and the Centre´s director.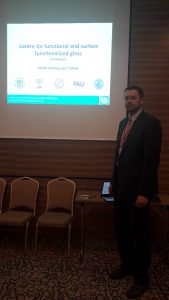 NCP Wide.NET – Transnational Network of National Contact Points for Spreading Excellence and Widening Participation under Horizon 2020
NCP Academy is a project which creates and implements a new and integrated training of Horizon 2020 advisors (NCP – national contact points)