Our colleagues taking their training stay in Padua are still optimistic …
It has already been several months since our colleagues embarked on one-year training with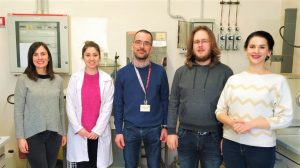 our partner institution, The University of Padua (UNIPD) and its Department of Industrial Engineering  supervised by prof. Enrico Bernardo, to further enhance their careers in material science by gaining new skills and contacts.
Despite the recent unfortunate Covid-19 pandemic outbreak, making the city of Padua to be the part of the North-Italian red zone, our colleagues remain in a good health and high spirits. UNIPD is currently shut down, with researchers working from home and undoubtedly, with reopening expected in May 2020, they will return to the laboratories with new plans and energy for their research.
Dr. Miroslava Hujová (postdoctoral researcher) alongside with the colleague, Patricia Rabello Monich, is focusing on the upcycling of inorganic. Their goal in the research is to process any incoming material of negative value into geopolymers or glass ceramics with interesting mechanical and/or physical-chemical properties. These products would not only be interesting for industrial exploitation and monetization, but would remain safe for the environment as the input materials oftentimes contain dangerous constituents.
Fulden Dogrul is currently, as the part of her PhD studies, focusing on development of bioactive polymer-based ceramics derived from akermanite. These fillers through 3D printing have potential to replace bone tissue and promote the full healing in the case of bone trauma.  This material has high potential to act as bone replacement with high level of successful acceptance from body.
Jacob Peterson, our former technician who is currently pursuing master's degree at the Faculty of Industrial Technologies of TnUAD, came to Padua in the frame of Erasmus+ program. He has taken up as the part of his student work the formation of ceramic foams based on waste wollastonite. Once successful, these foams, based on previous research will be exploited for sequestration of CO2 from the atmosphere, important research for our current society.