Long term training at the University of Padova
Despite the unfortunate Covid-19 pandemic situation, two of our colleagues have left for their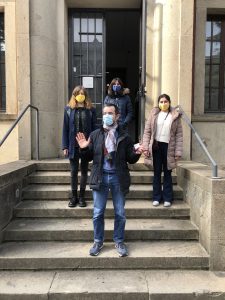 one-year training stay at our partner institution. Dr. Akansha Mehta and Dr. Paulina Ozog are just taking their training to gain new research skills and experiences at the Department of Industrial Engineering of the University of Padova in Italy under supervision of prof. Enrico Bernardo.
Dr. Akansha Mehta focuses her research on preparation of 3D membranes (by AMT and foaming process) from waste glasses (in borosilicate system via upcycling process) and modification of chemical composition (incorporation of TiO2) by alkali activation process for the water treatment application with photocatalytic properties.
Dr. Paulina Ozog works on preparation of different 3D scaffolds in different system (BIO, waste-borosilicate system) by DLP method and preparation of Si3N4/ glass scaffold (glass as sintering aid for Si3N4).
We wish both researchers good luck and pleasant stay in Padova!