New postdoctoral researcher Dr. Nasima Afsharimani at FunGlass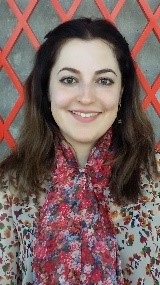 Nasima Afsharimani received her PhD degree in Engineering Science from the Université Catholique de Louvain, Belgium in 2013. From 2014 to 2016 she was a post-doctoral researcher at the Institute de Physique et Chimie des Matériaux de Strasbourg (IPCMS), CNRS, France. In February 2016 she joined the SPM group at Bilkent University in Turkey to follow her research on self-assembly of alkanethiols on graphite and graphene surfaces for heavy metal detection. By this time, her research has principally been focused on structural and electronic characterization of nanostructured systems in either the form of individual molecules (molecular wires such as graphene nanoribbons) or monolayers and thin-films. To this end, she has fabricated and has developed micro/nano devices such as thin-film transistors (TFTs) and employed different Scanning Probe Microscopy (SPM) techniques as well as the other spectroscopy and surface characterization methods.
As of November 2017, she has joined FunGlass to conduct fundamental and applied research on different types of coatings on glass and metal surfaces for photocatalytic self-cleaning and anti-corrosion applications. The coatings are based on graphene-ceramics hybrid structures and will be prepared by sol-gel methods. A number of techniques such as XRD, RAMAN, SEM, DLS, EIS, UV-VIS-NR, Nano tribometer and contact angle measurement, will be employed for the characterization of coatings.