Junior FunGlass School successfully completed
From the 6th until 10th of July 2020, the Central Laboratories organized "junior FunGlass school" in the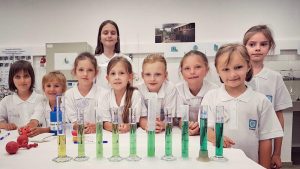 FunGlass center. The idea behind was to promote science in a Fun way as well as to encourage children's spontaneous investigations and make science available to them. These days' science experiments, observations, the recording of science findings and other science and art activities connected to glass and its properties became part of the children's daily life.
The children were very enthusiastic, curious, laborious and concentrated to science, readily planning their own experiments. They acquired new skills and knowledge via practicing wet chemical analysis methods, while strictly following the safety rules. Their experimental work and scientific efforts were rewarded by the certificate "junior scientist" handed over to them by the vice-rector for science and international relations of A. Dubček University of Trenčín and FunGlass director Prof. Dušan Galusek.
We opened the doors to the children of our FunGlass parents, both researchers and administrative staff. These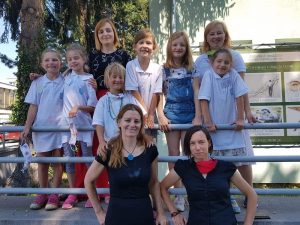 creative, imaginative and hardworking children exploring together, opened the hearts and strentghened links between their parents working in different fields: research and administration.
Special thanks belong to Dagmar Galusková and Hanka Kaňková for organization and challenging experimental strategy and preparation, Vanda Mokráňová and Evička Konečná for tutorial support, and Braňo Hruška, Marianna Švančárková, and Peter Švančárek for instruments demonstration, FunGlass management for allowing us to organize it, and of course to ALL who supported us.
                                                                                            Department of the Central Laboratories