FunGlass team enjoy the sun rays and blue sky
Although most of us work during the summer, it's also a time to enjoy suny weather and chill out time.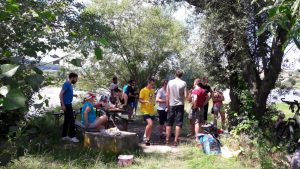 FunGlass team has started this summer with BBQ  in a wonderful place near river Váh, just 15 minutes away from the university.
While some of us made a fire, the others prepared food. Different kinds of sausages, spicy meat, vegetables, cake…  Our teambuilding in practice.
Photos tell you more: Gallery BBQ
Thanks for great atmosphere. Nice summer to all FunGlass staff!
Stay cool, be cool 🙂