František Ivanič- new FunGlass team member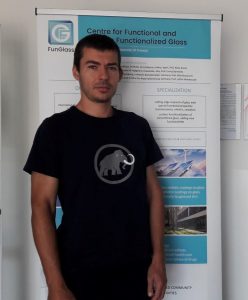 It is a pleasure to introduce a new member of FunGlass team, Dr. Franišek Ivanič, who is joining Department of Biomaterials.
He  received a PhD in Macromolecular chemistry in 2019 from the Slovak University of Technology in Bratislava (external training workplace – Polymer Institute SAS). The topic of his PhD thesis was  Optimization of thermoplastic starch for applications in polymer blends.
His experience and expertise include the preparation and optimization properties of polymer composites based on the evaluation of several techniques such as tensile test, DMTA, rheology, etc. His current research focuses on the development and characterization of composites based on polymer matrices, in regard to adjusting properties on behalf of 3D printing of bone scaffolds.
Welcome to Funglass and  we wish you enthusiasm and lot of nice ideas for your research.