Fatih´s successful PhD defence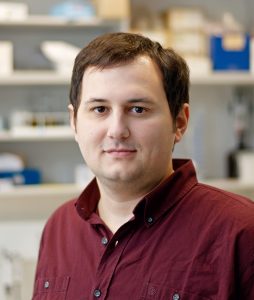 We are pleased to announce that on October 24th, 2022 our PhD student MSc. FATIH KURTULDU has successfully passed his doctoral thesis defence on "Ion doped mesoporous bioactive glass nanoparticles with anti-bacterial activity and mineralization capability".
Fatih is our second graduate who gains DOUBLE DIPLOMA DEGREE issued by Alexander Dubček University of Trenčín and Friedrich-Alexander-Universität Erlangen-Nürnberg, Germany.
Fatih´s doctoral study was supervised by Prof. Dušan Galusek and Prof. Aldo R. Boccaccini from FAU. His research results included into the final doctoral thesis were evaluated by two reviewers – Prof. Dr. Sonia Lucia Fiorilli from Department of Applied Science and Technology of the Politecnico di Torino Corso Duca degli Abruzzi, Torino – Italy and prof. RNDr. Vladimír Zeleňák, DrSc. from the Department of Inorganic Chemistry of Pavol Jozef Šafárik University in Košice, Slovakia.
Fatih started his studies in Trenčín in November 2017. He was admitted to FunGlass doctoral program to work on joint doctoral topic in cooperation with FunGlass partner university – FAU. Fatih spent a part of his study in Institute of Biomaterials at FAU through the long-term training stay supported by FunGlass project in order to develop his knowledges in the relevant field and research competences. He carried out his doctoral project under the supervision of Prof. Dušan Galusek and Prof. Aldo R. Boccaccini.
Before arriving to Trenčín, He completed his undergraduate education in Kocaeli University, Department of Metallurgical and Materials Engineering in 2013. Later, he completed his master's degree in Gebze Technical University, Department of Materials Science and Engineering in 2015.
Fatih is the author/ co-author of 6 publications in scientific journals, he launched 10 contributed lectures at international conferences, and he has received 65 citations so far.
The most significant publications:
F. Kurtuldu, N. Mutlu, A. R. Boccaccini, and D. Galusek, "Gallium containing bioactive materials: A review of anticancer, antibacterial and osteogenic properties," Bioactive Materials, vol. 17, p. 125, 2022, https://doi.org/10.1016/j.bioactmat.2021.12.034
F. Kurtuldu, H. Kankova, A. M. Beltran, L. Liverani, D. Galusek, and A. R. Boccaccini, "Anti-inflammatory and antibacterial activities of cerium-containing mesoporous bioactive glass nanoparticles for drug-free biomedical applications," Materials Today Bio, vol. 12, p. 100150, September 2021, https://doi.org/10.1016/j.mtbio.2021.100150
F. Kurtuldu, N. Mutlu, M. Michalek, K. Zheng, M. Masar, L. Liverani, S. Chen, D. Galusek, and A. R. Boccaccini, "Cerium and gallium containing mesoporous bioactive glass nanoparticles for bone regeneration: Bioactivity, biocompatibility and antibacterial activity," Mater. Sci. Eng. C, vol. 124, p. 112050, May 2021, https://doi.org/10.1016/j.msec.2021.112050
We congratulate Fatih on completing his dissertation and receiving his "doctor philosophiae" title!
We wish him every success in his future career.