New heads of Central laboratories and Functional materials departments
It is a pleasure for us to inform you that from June 1st, 2020 Dr. Dagmar Galusková and Dr. Jose Velazquez were promoted to the head positions of the Central Laboratories and Functional Materials departments.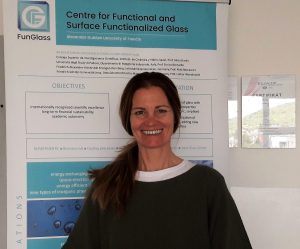 Dr. Dagmar Galusková, who became the head of the Central Laboratories department, was since 2004 part of the team established as VILA (Joint Glass Center). From 2017 she still continues in scientific, research and academic area in the field of inorganic materials in the FunGlass Center. She received her PhD in 2010 at Slovak Technical University (Bratislava, Slovakia) successfully accomplishing external study at the Institute of Inorganic Chemistry Slovak Academy of Sciences. Nearly all her publications and scientific outputs reflects the results achieved in the area of corrosion. Her scientific competence is not limited to Corrosion Science (study of corrosion behavior of glass and ceramic material in aqueous environment), but extends to other aspects of Material Chemistry, with strong focus on Analytical Chemistry (chemical characterization of bioactive glass, historical glass, advanced ceramic materials with ICP OES and MS) and Materials Characterization (SEM EDS/WDS). Dr. Galusková shares her experiences and skills in ICP OES through trainings organized for FunGlass researchers and PhD students and successfully managed external and internal tasks related to the scientific challenges arising from the national and international grants, and thus contributed to the overall development of the Center.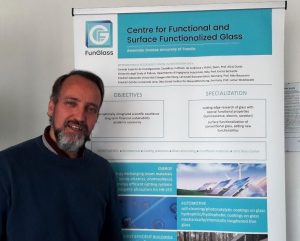 Dr. Jose Velazquez, who became the head of the Functional Materials department, received his PhD. in 2013 at Universidad de La Laguna (ULL), Faculty of Physics; Department of Applied Physics with the PhD thesis Lanthanides ions doped glass-ceramics based on insulating and/or semiconductors nanocrystals dispersed in SiO2. Synthesis, structural and spectroscopic characterization. This work received the distinction Summa Cum Laude and the extraordinary PhD award from the University of La Laguna due to his excellent results. After completion of his Ph.D., he joined the Department of Inorganic Chemistry of the University of La Laguna. In 2015, he joined to the Ceramic and Glass institute from the Spanish Research Council (ICV-CSIC) as a postdoctoral researcher in the GlaSS group lead by Prof. Alicia Duran.  His scientific background is focused on Sol-gel, Melt-quenching, Crystallization, Oxyfluoride and Semiconductor glass and glass-ceramics, optically active materials, porous materials, Functional materials for optics and energy. He has published more than 46 journal papers and 1 international book chapters. He became the member of the FunGlass team on January 2018. Dr. Velazquez was recently appointed the topic editor of Molecules journal.
The whole FunGlass team congratulates to the success of being promoted to the heads' positions.