Meeting of the Industrial Board of FunGlass Centre
On  January 18th, 2022 Advisory Industrial Board of FunGlass Centre organized its fifth meeting.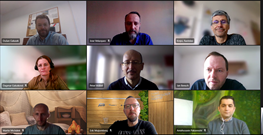 Same as the last time, the meeting was held virtually due to the Covid – 19 situation.
At the beginning, Prof. Dušan Galusek, director, and Dr. Peter Hošták, Head of Administration Unit provided an overview on development of Centre´s human resources, doctoral program and collaboration with advanced partners and industrial sector. Ing. Marek Šedivý, project manager, presented the progress of reconstruction works of our building and procurement of new research facilities within the  complementary project Ceglass and Ceditek II. The main part of the program was dedicated to the current scientific and research agenda of our six departments: Dr. Martin Michálek – Biomaterials, Dr. Amir Pakseresht – Coating Processes, Dr. Jozef Kraxner – Glass Processing, Dr. Jose Velazquez Garcia – Functional Materials and Dr. Dagmar Galusková – Joint Glass Centre). The meeting covered also round table discussion – the most important part for FunGlass representatives in order to hear the industrial partners´ recommendations and opinions on the research direction.
In conclusion the industry representatives have expressed their support for the FunGlass Centre and their willingness to engage in mutual cooperation.
Thanks to the representatives of
Slovak-regional (AGC Trenčín, s. r. o., Johns Manville Slovakia, a. s., RONA, a. s., Vetropack Nemšová, s. r. o.)
European industries (Colorobbia Italia S.p.A, Corning France, Glass Service, a. s. Czechia, Nuova OMPI, Italy, and Fraunhofer Translational Center Regenerative Therapies TLC-RT, Germany)
Advanced partners (CSIC Madrid, Spain; FSU Jena, Germany; FAU Erlangen – Nűrnberg; UNIPD Padova, Italy)
for their participation and support!