Liene Šāble – Erasmus Student from Latvia
Liene Šāble is a new member of FunGlass team from the beginning of March.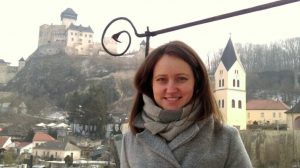 She has graduated her master degree in Civil Engeneering in 2012 at Riga Technical University. Currently she is a PhD Student at the Riga Technical University      (Institute of Materials and Structures (IMS) ) and at FunGlass she is under programe Erasmus+ traineeship scholarship. The main directions of her PhD studies are laminated glass testing and development of finite element model.
Liene´s training at FunGlass will be focused at gaining skills and knowledge in the field of preparation of glass by conventional melting process and the coating processes by chemical methods applicable for flat glass used in building envelopes, as well as basic characterisation of the coatings by advanced analytical methods.
She stayed at Funglass till the end of Septembre 2018.