FunGlass School Čertov, spring 2022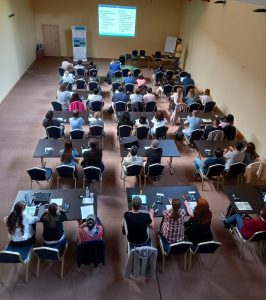 The spring edition of the FunGlass School took place in a picturesque place named Čertov from June 1st till June 3rd 2022, with a record number of 66 attendees. Three days full of knowledge sharing, discussions, presentations, and fun were prepared for FunGlass researchers, Phd Students, administration staff and FunGlass guests.
The first presentation was delivered by prof. Dušan Galusek – FunGlass director, introducing the current progress of the FunGlass Centre and its plans for upcoming period. Afterwards, the researchers presented the results of their scientific activities encouraging colleagues to ask interesting questions which often lead to fruitful discussions.
Marek Šedivý, the CEGLASS (ITMS+313011R453) project manager, and Lucia Kuníková, the manager for CEGLASS (ITMS+313011R453) publicity, from the administration team informed about the new research facilities, which are being continuously delivered and installed in the reconstructed laboratories.
The last day was devoted to presentations of the PhD students followed by questions and discussions from senior researchers as well as from other students listening to the presenters.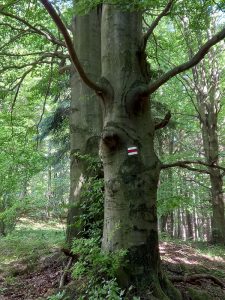 The picturesque surrounding and nice whether enticed us to go hiking together as a form of an evening teambuilding activity. We can conclude that the friendly atmosphere among the attendees lead to very inspirational dialogues about the scientific research and about the Quo Vadis FunGlass.
 FunGlass School Principles:
The 'FunGlass School' is based on the summer school concept described in the Grant Agreement of the FunGlass project, intended as a set of condensed training periods for all FunGlass employees and aiming to be one of the key elements of education and training beyond the specialized, individual work programs. Some of the goals of the school include: training in the presentation of scientific results, learning of interdisciplinary research, interdisciplinary & intercultural communication, mastering skills, such as management, writing and presentation of projects, fundraising of projects and grants.
It is organized twice a year (Spring and Autumn) as an intensive offsite training camp for all employees and PhD students of the Centre.
The agenda is divided into two parts: A) Scientific part and B) Complementary skills / Outreach activities. 
All participating FunGlass researchers/doctoral students present their scientific results.
We are looking forward to the FunGlass School in Autumn 2022.
Book of abstracts (coming soon)