FunGlass mentioned in the publication "Science parks and research centres in Slovakia"
The Institute for Forecasting of the Slovak Academy of Sciences http://www.prog.sav.sk/  published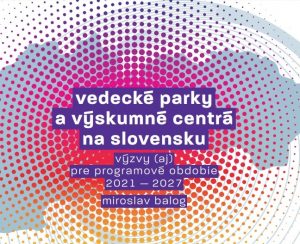 monography entitled Science parks and research centres in Slovakia: Calls (also) for the programming period 2021 -2027, in which the author states that Slovak public research and development organisations (universities, the Slovak Academy of Sciences) have been chronically underfunded, and their technological infrastructure has been negatively impacted as a result, limiting their overall R&D capabilities. This handicap has caused a number of adverse effects, such as a reduction in R&D performance and a brain drain from the R&D sector.
The publication contributes to the debate not only on the promotion of science parks and research centers, but also on the wider setting up of the national innovation system and exploiting the potential of the 2021-2027 programming period, taking into account the recommendations of the European Commission (EC, 2019)
Also our FunGlass Center is mentioned in the chapter Activities and Effects of Large Research and Development Infrastructures. The author considers the Pan-European Center for Functional and Surface Functionalized Glass (FunGlass) as a strategic infrastructure, mentions unique financing in Slovakia (HORIZON 2020 and the Slovak Agency for the Structural Funds of the EU) and highlights its cooperation with major international institutions and industry.
Full text of publication: Science parks and research centres in Slovakia: Calls (also) for the programming period 2021 -2027