FunGlas Centre trains also Erasmus+ students
The FunGlass Centre supports the training mobility not only of its own PhD students, but also foreign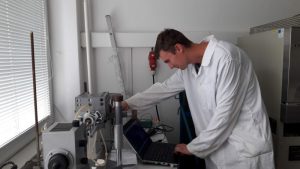 students from partner institutions coming to our Center in order to gain wider knowledges and skills from the field of inorganic technologies and glass research.  This year, the mobility of visiting lecturers and students is limited by the general situation with Covid-19.
We are glad that we could welcome in FunGlass team Jan Smolik, PhD student of the Department of General and Inorganic Chemistry of University of Pardubice (CZ).
Under the expert guidance of doc. Ing. Mária Chromčíková, PhD. and Ing. Branislav Hruška, PhD., Jan has been trained at FunGlass since beginning of September and this stay is organized under Erasmus+ traineeship program. Jan´s research training is focused on gaining knowledge and skills in chemical analysis of glasses, measurement of physical properties or processing of experimental data. Jan has so far demonstrated excellent communication, laboratory, and organizational skills as well as creative thinking. He has integrated very well into the work team.
Jan is staying at FunGlass till the end of October 2020.