Andressa Trentin at AETOC 2022 (Italy)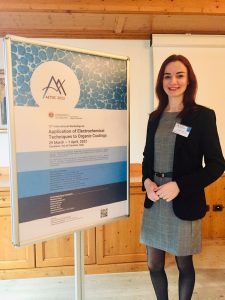 From 29th March to 1st April, Dr. Andressa Trentin attended AETOC 2022 – 12th International Workshop on Application of Electrochemical Techniques to Organic Coatings, held in Cavalese, Italy. She presented preliminary results of the research "The role of surface pre-treatments on the barrier and adhesion properties of epoxy coatings", co-authors Amirhossein Pakseresht, Alicia Duran, Yolanda Castro, Dusan Galusek.
The workshop was a great opportunity to be part of the latest advances in organic coatings and electrochemical characterization, in addition to relevant discussions with scientific peers. The work performed in the Department of coatings at Alexander Dubcek University of Trencin became known among potential collaborators thanks to the support of the FunGlass project, funded by the European Union´s Horizon 2020 grant agreement no. 739566 and VEGA grant no. 1/0171/21.