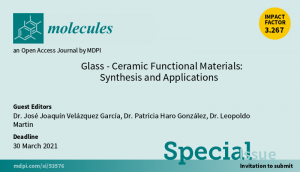 We are pleased to inform you that Dr. Jose Joaquin Velázquez García has become the Guest Editor of  Special Issue of "Molecules" (an Open Access Journal by MDPI).
The Special Issue is devoted to various synthesis, processing, and characterization methods of different types of nanostructured glass-ceramic systems, including materials with linear and non-linear optical properties, functional materials for energy, coherent and non-coherent optical sources, photocatalytic materials with a special interest in water splitting, glass-ceramics with interesting electrical and magnetic properties, modelling of photonic glass-ceramics, bioactive glassceramics, and others.
In the Special Issue, there will also be provided the state-of-the-art technological advances and the latest and novel research in the synthesis, processing, and characterization used to analyse the chemical and physical properties of these systems, focussing on the innovative applications of nanostructured glass-ceramics. The study of different physical phenomena, and the relationship between structural, mechanical, and the optical, dielectric, and magnetic properties of glass-ceramics are also welcome.