Crystal Wing Award Nomination for Prof. Galusek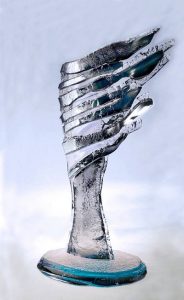 A total of 27 people have been nominated for the 2017 Crystal Wing awards. These awards recognize exceptional people working in nine areas: theatre and audiovisual art, philanthropy, the economy, music, medicine and science, journalism and literature, rock, pop and jazz; sport, and fine arts.
Prof. Dusan Galusek, as internationaly accepted scientist in ceramics and glass research area,  was nominated for this award in cathegory Medicine and Science. This nomination related as to his expertise as to FunGlass Project.
The 21st annual ceremony was held in the Slovak National Theatre building in Bratislava on Sunday 21 January.
Finally pathologist Dr. Lukáš Plank received this award, but we can say it was a great honour just to be nominated.