Kick-off meeting of International Advisory Board
On 20th November International Advisory Board of FunGlass Center organized its first meeting. International Advisory Board consists of representatives from relevant research field of the Centre who are based in non – EU countries. The aim of newly formed International Advisory Board, as the advisory authority to the Centre director and Scientific Board, is to identify existing directions and new trends in the field of research of FunGlass, help to specify the problems what can be resolved by Centre, or contributes to the specification of the topics of theses and doctoral dissertations.
The meeting was led by prof. Dušan Galusek, the coordinator of FunGlass project and the Director of just created Center. After his presentation of FunGlass Centre and its main research activities, there has been considerable discussion with a number of recommendations for Centre´s development and its further progress.
The meeting was attended in person by prof. Alicia Durán (project parner, CSIC Madrid), Dr. Lenka Muller (project partner, FSU Jena), MgA. Paulina Bohmerová (NCP, CVTI SR), prof. Himanshu Jain (Lehigh Universiyt, USA), prof. Sener Oktik (Sisecam, Turkey), Dr. Róbert Klement (FunGlass). Via skype joined the meeting prof. Edgar Zanotto (Universidade Federal de São Paulo, Brasil) and prof. Enrico Bernardo (project partner, Universiyt of Padova).
FunGlass International Advisory Board members:
Prof. Lili Hu, Shanghai Institute of Optics and Fine Mechanics, Chinese Academy of Sciences, China
Prof. Himanshu Jain, Lehigh University, USA
Prof. Dr. Sener Oktik, Şişecam Science and Technology Center, Turkey
Prof. Dr. Mingying Peng, South China University of Technology, China
Prof. Edgar D. Zanotto, Universidade Federal de São Paulo, Brazil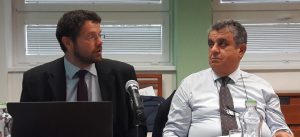 prof. Galusek, prof. Oktik, Dr. Muller, prof. Jain
  
Via skype – prof. Zanotto and prof. Bernardo