FunGlass extended helping hand in a voluntary project 
or Teambuilding by the river…
After summer "break" there was a great time to start new season with common teambuilding activity. On September 11th, FunGlass and some university employees took a part in the voluntary project "Willow arboretum" organized and managed by non-profit organization Pre Prírodu (For the Nature).
The aim of the project is to revitalize the place near river Vah after the new railway bridge building and turn it into a recreation zone with arboretum of 15 types of willows, benches, playground with swings for kids and 'learning sidewalk' with information boards related to description of fauna and flora.
The work was really hard: we were de-weeding big area, digging and sorting stones, which were used for various purposes; we were working with wood – peeling and brushing cut tree boles to be used for seating and playground areas, etc.
Aferwareds we sat and relaxed by the river, enjoyed picking up nuts  and barbecue.
Willow arboretum is a great project contributing to healthy living style of all of us. It provided nice opportunity to get to know people within our work environment and contribute to something really nice and useful benefiting our city of Trenčín. THANKS to all who attended!:-)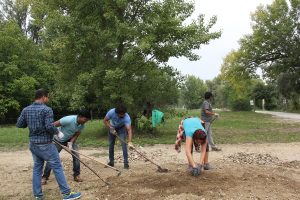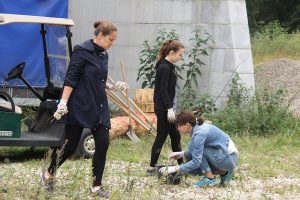 More photos in GALLERY